TeamIN is a social network for sports enthusiasts. Players can use this app to find or create events of the sports they like, find new players to join their game and be up to date with their friends' sporty activities. I worked on this project in 2015.
My role in this project was making the information architecture and wireframes. The final UI design was another colleague's responsibility.
Target audience
This project was for a client based in Dubai, UAE. Their initial target market was the expats in Dubai that want to play their favorite sports but they don't know anyone to play with.
Skills representation
One of the important aspects when looking for someone to play sports with is their skill level at this sport. Because in a Tennis game for example, if one of them is highly skilled and the other is a beginner, the game will not be enjoyable for both of them. That's why it was critical to represent the level of skill of each user in each sport that they select as their favorite sport. The skill levels were Amateur (1 dot), Semi-pro (2 dots), and Pro (3 dots). And the 3 dots layout was inspired by Splinter Cell iconic night vision head mount (Yes, I'm a gamer too!).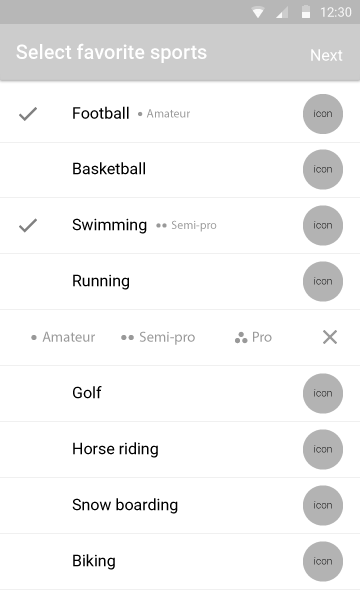 Easy way to create events and data population
The design I worked on wasn't the first design for this idea. They had a previous prototype before and it had some problems when they made a round of usability tests. The most important problem was the event creation page because it had a lot of fields so it was a bottleneck for the users.
So, we needed to make the event creation as effortless as possible while still having enough details for the attendees.
We narrowed down the required fields to create an event to be only 2:
Which sport type. While having the favorite sports at the beginning of the list.
The event privacy. Which were: visible to the public, visible to followers only, or by invitations only.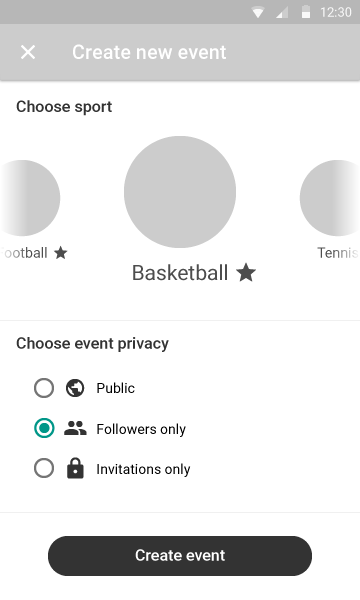 The rest of the event details will be added later and the attendees would also be able to suggest the date, time and location for the event if they were empty, since they are the second most important info. Then the event creator can accept these suggestions or add new details, to make it a little bit faster for the data population.

Tinder for sports
The events were suitable for group sports like Football, Basketball, Volleyball, etc… But individual sports like Tennis, Squash, Ping Pong, etc.. don't quite fit the event model.
So we added another tab to find individual players that share your favorite sports or search by a specific sport, also sorted by their distance from you.
This way you can chat with them and organize your next Tennis game and also make new friends that share your taste in sports.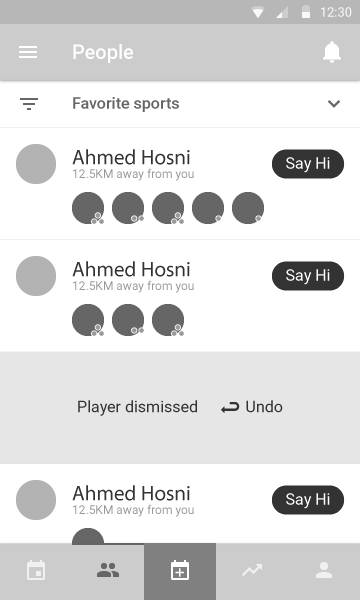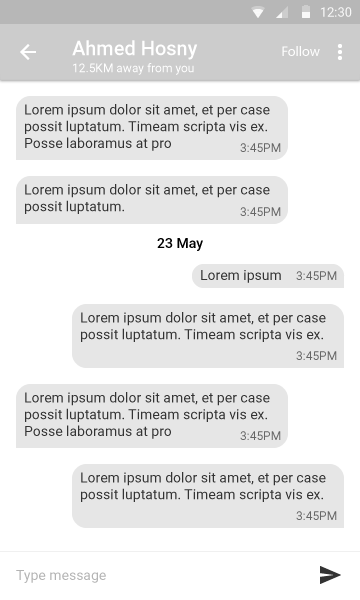 Closure
This project is one of my favorite ideas till now because I personally would have used it, I have the need that this app satisfies. But unfortunately, it failed to launch due to technical difficulties because the development team was trying a new technology at the time to make a hybrid mobile app. And I haven't heard any news about it since I left the company, although I still believe in the idea and the design. It would have been a blast.
I hope you've enjoyed reading this case study, feel free to reach out to me at any time through the below links.
Back to projects